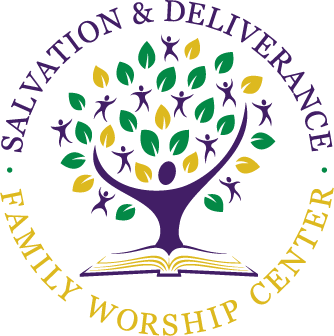 ---
4402 Northwest Rd NE
Leland, NC 28451
PH: 910.655.9600
---
E-mail us

Make home page

Add to favorite

Print this page

Share This

© 2013
The Church History
---
           We are thankful to the Almighty God  that on September 13, 1986, twelve people met at the home of Brother Harry McKoy for an official meeting to discuss and decide on establishing a Church.  From this meeting, we established Salvation and Deliverance Church of Leland, NC under the Salvation and Deliverance Headquarters' Church in New York. The headquarters' church was established in 1975 and the late Apostle William Brown was the Pastor, Founder, and General Overseer of the Salvation and Deliverance Church at 37 West 116th Street, New York, New York 10026, a worldwide God - given ministry.
          We set up in an old rented building that was sub-standard and in need of many repairs.  There were many discomforts, but we endured, for our minds were made up.  Our first Officials were Evangelist Kenneth McKoy as Pastor; Minister Anthony Richburg as Assistant Pastor; Brother Haywood Miller as Deacon; and Brother Harry McKoy as head usher.
          Our first service was held on September 14, 1986 and when the altar call was made for joiners, 15 people came forth and joined.  Mother Lottie Sneed, who was called from labor to reward in 1997, was appointed our first Sunday School Teacher for the adults and Sister Lecia Grainger for the children with Sister Robin Freeman as assistant.
          In April 1987, we were Blessed to purchase land to build a Church.  In December of 1988, Bishop Kenneth McKoy decided to further his education and go to school in Connecticut.  He officially resigned on February 12, 1989 leaving Elder Richburg as Pastor.
          In March of 1989 we were Blessed to begin constructing our new church and on July 1st 1989 we vacated our rented building and moved to this church that some saw in visions even before the land was purchased.
          We thank God for our Pastor, Apostle Richburg and his family who have served us faithfully for years.  His title has changed from minister to Elder to Bishop to Doctor to Apostle.  He is still the same man but he is walking closer with God with a higher anointing and we are thankful that he is still our Pastor.  We thank God for sending Pastor Richburg an assistant in 1998 and we thank Bishop Corbett and his family for their obedience; Bishop Corbett served faithfully until he decided to depart in 2019. Evangelist Fayerence Richburg (First Lady) became our Co-Pastor. Ten Evangelists have been called into the ministry under Pastor Richburg and 19 Evangelists and 1 Elder have joined and served under him.  We have 6 licensed Church Mothers and 11 licensed Missionaries.
          Since establishing, God has Blessed the ministry; the late Deacon Freeman was given a vision to build a wagon that converts into a portable stage to be used in the outreach ministry when traveling for street meetings.  In 1997, a picnic area was built and later changed into a building named in memory of Deacon Freeman as the H.B. Freeman Education building and Dining hall.  In 2001, God Blessed the church to pay off our mortgage on the building 3 years earlier and to purchase a 48 passenger coach to be used by the church for traveling and also to be a blessing to other churches.   In March of 2005, we purchased a brick home and 3 acres of land across the street from the church. The vision of a 500 seat sanctuary that will connect with our present building is still alive and plans are being made.
          God has and is still opening many doors for us.  At present, we are still a small outreach ministry with growth, but our mission is very large and we are going to continue to do God's will until he returns for us.  In the past years, we have gone through many trials; but with God we stood and with God we are still standing and with God we will continue to stand and go forth with victory.  We solicit your prayers that God will continue to keep and use us for His Glory and Holy Will.
---
Our Pastors